How Salesforce Implementation Partners Help Companies
by Arvind Chavar, on March 14, 2019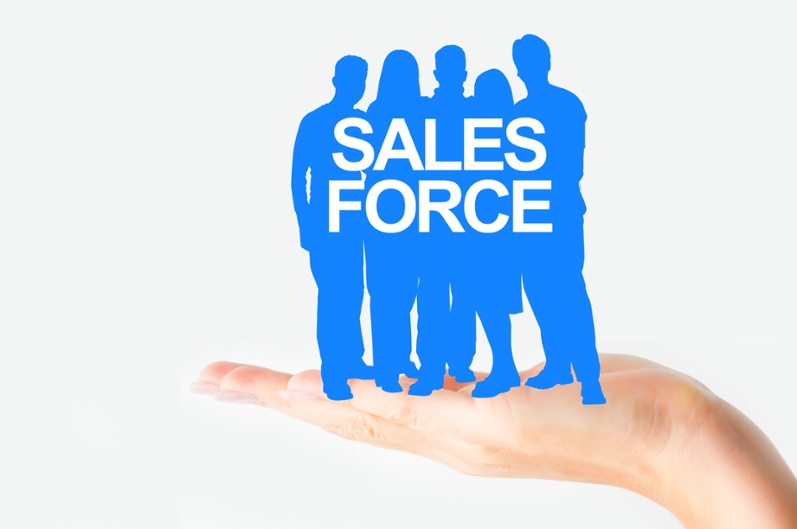 A Salesforce implementation partner can provide a number of benefits for companies, going beyond simply implementing a platform. A partner offers value for companies in that they are experts in what they do, whereas if you attempted to handle implementation internally, the process may not go as smoothly for various reasons.
For example, the lack of necessary skills spanning a complete solution, complexity and breadth of the platform, buy (app exchange) versus build, configure versus code, use of right tools and technologies.
Keep reading to discover some of the top ways an implementation partner can support your company's Salesforce platform.
Setting

Up a Complex Platform

Knowing that Salesforce is so much more than a CRM means that there are a number of options when setting up your platform. As Salesforce continues to add to its platform, it does become more complex to set up for companies.

For example, the Salesforce platform includes Sales Cloud, Service Cloud (Consoles, Knowledge Base,Telephony Integration), Marketing Cloud (B2B,B2C), Community Cloud (Customer, Partner, Employee), Finance Service Cloud (FSC), Health Cloud, MuleSoft for API integration, Analytics Platform for Business Intelligence as well as Artificial Intelligence (AI) and more.

With so many options for your platform, an implementation partner can simplify the process by providing their expertise and guiding you in which platforms your company requires and to get the most out of your investment in the platform.

Salesforce just celebrated its 20th anniversary and their pace of platform growth and expansion, either through internal innovation or acquisitions, has been overwhelming. While it is welcome and beneficial to customers it can also be a daunting task for companies to keep up.

Salesforce has acquired 55 companies since inception, and 34 companies since 2012. In 2018 alone Salesforce spent $7 billion on acquisitions and platform expansion. To name a few Salesforce key acquisitions in recent years that have expanded the breadth of Salesforce platform, see the chart below.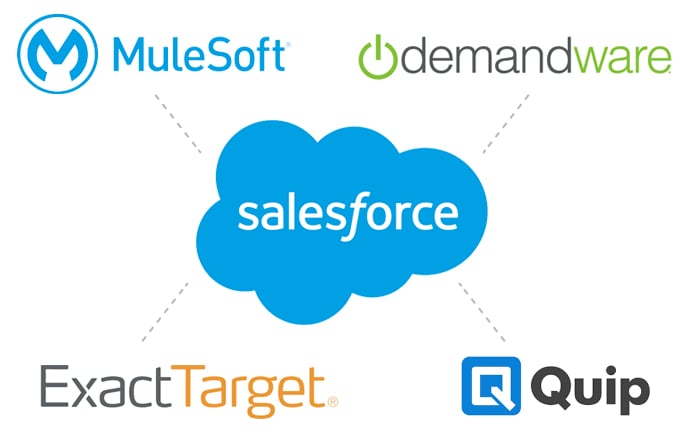 | | | |
| --- | --- | --- |
| Company Acquired | Year Of Acquisition | Current Product |
| MuleSoft | 2018 | MuleSoft – Software platform to build applications using network of existing internal and external APIs |
| Demandware | 2016 | E-commerce Cloud – Provides enterprise level e-commerce platform for retailers |
| Quip | 2016 | Document platform to get work done faster |
| ExactTarget | 2013 | Marketing Cloud – B2B and B2C marketing platform for customer acquisitions and conversions |
Navigating
an Evolving Platform
As the Salesforce platform evolves at a rapid pace, companies should have a partner in order to navigate these changes and learn how to best leverage your investment. An implementation partner will also guide you through the various applications and solutions, so that you can best utilize them for your company.
An example would be to get an integrated 360 degree view of your business it is best to leverage a single platform across all business functions – Marketing, Sales, Service, ERP. Some of the questions that come up during such strategic considerations are:
Should you consider a standalone external marketing automation platform and integrate with Salesforce or leverage Salesforce Marketing Cloud?
Which parts of your business do you want to continue to use existing external applications and leverage data and UI integration to provide a seamless experience to your users or consider migrating to Salesforce.
Should you consider AWS and Heroku platforms to build out specific applications versus Salesforce as an application development platform? What are the short term and long term cost of licensing and maintenance costs for each of these options?
Multi-Tenancy and Resource Limits
Salesforce is a multi-tenant platform, which means multiple clients are hosted on the same physical servers sharing all computing resources. You can read more here.
Do not worry about privacy as Salesforce has a robust architecture for partitioning and keeping every customer's data and configuration separate. The platform is used by thousands of customers across all domains for many years. Salesforce places many limits on resource consumption such as CPU consumed, number of API calls made, number of concurrent batch jobs, number of queries run in a single process or number of rows of data queried to safeguard other tenants.
By working with an implementation partner, they can set up the architecture to account for the various limits. These limits will also influence how your platform is designed. Without a partner, it would be difficult to ensure these limitations are accounted for correctly, which affects application performance, availability, and scalability to support your growing business.
Complex

Licensing

Licensing within Salesforce can be complex; most companies don't know what kind they need, so a partner is a crucial part of ensuring that the correct licensing(type and number) are used. For example if you are using community cloud and your customers need access to reports or dashboard and require an advanced record sharing then you need community plus , if not just having community license will be sufficient. You will not need expensive partner community licenses if you have no need to share leads or opportunities.

For example, user licenses may include:
Salesforce
Salesforce Platform
Knowledge Only User
Identity
Chatter Free
Chatter External
Chatter Only (Chatter Plus)
Company Community
Customer Community
Customer Community Plus
Partner Community
Salesforce Releases and Updates
As Salesforce releases updates such as new development, security, and other upgrades, it can be overwhelming for companies to keep up with everything. For example, if there's a technical innovation and your company is not up-to-date, you may fall behind. An implementation partner keep your platform current.
In addition to ongoing expansion of its platform, Salesforce does three releases per year to add new features to the platform, including critical updates to patch severe problems. The release notes for each of these can go into hundreds of pages and can be overwhelming.
You need a partner to discern these updates and assess what is relevant to your implementation and translate them into specific actionable items to keep your platform up-to-date. You do not want your platform deviating from the current state of platform over a long period of time to the point where a rewrite might be required.
Money spent for ongoing maintenance and having the right partner not only helps you leverage the latest innovations, but also avoids the major investments required for rewrites or re-architecting your current solution.
Another example, many companies need help upgrading from Salesforce Classic to Lightning (we'll explore this in more detail in a few weeks), but this can be an important upgrade to ensure your platform is up-to-date.
Partners Have the Needed Expertise
Another way in which a Salesforce partner can support companies, is with their breadth and depth of expertise. They have done many implementations and have used the same tools and features in different ways to solve different problems. That will ultimately create the best solution whereas doing this in-house, your expertise and experience might be limited and may fail to leverage the platform to its optimal level.
An example in Salesforce, the access to a record for users can be achieved through any one of the following ways:
Ownership
Role Hierarchy
Team Membership
Profiles
Territory
Group and Group Membership
APEX Sharing
Manual Sharing
Sharing Rules
It can be difficult to get an integrated view of record visibility (who has access to a record and why) and there is no simple out-of-the-box solution. Most Salesforce experts could just say that there is no way to achieve a specific use case. You need a seasoned partner who has depth, breadth, and creativity to get under the hood and come up with solutions to difficult problems.
Have the Necessary Capabilities
Beyond expertise, a Salesforce implementation partner will have the capabilities to follow through in terms of time, oversees overall execution for technical consistency and use of right tools, the ability to take on new projects, and the specific skill set required to augment your team and ensure that everything is in place. Projects are executed for scale and growth to get the most out of your investment, while also safeguarding with timely updates.
Take the Next Step
Want to learn more about how Aartik Solutions has implemented Salesforce successfully and how we can help your company? Schedule a time to talk with us.